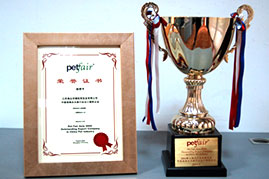 Jiangsu Lian Yi biotechnology limited company is the holding of State-owned enterprise groups in Jiangsu overseas group companies, the company is mainly engaged in natural, nutritious products, pet foods and condiments, such as the production, research and development, trade and related services. Hai Qi great wall Food Engineering Department of Jiangsu Province, Jiangsu sea-level Swiss trade and economic cooperation with China, Xuzhou lianyi bio, henghua, industry and trade in Jiangsu Province, Jiangsu Lian Yi biotechnology to build industrial chain of pet food is the focus of Group business, is now through spring and autumn it ten years become a leading enterprise of agricultural products in Jiangsu Province exports ranked first of similar products.

Jiangsu Lian Yi biotechnology company located in pet-food quality and safety-level demonstration zone, xuyi County, Jiangsu Province economic development zone, with registered capital of 10 million, with a total investment of 30 million, covering an area of 20 acres. Jiangsu Lian Yi is China's major producer of pet food additives, one of the merchants, in recent years, the business has grown steadily year by year, the annual average growth of 30%. Companies adhere to customer value and sustainable development as the goal, strive to provide quality, efficient and personalized customer service, the company always adhere to "kindness, dedication, innovation, effectiveness" guiding principle and promote love, health and safety. Compliance with HACCP, FSSC, ISO and other quality management system, products meet domestic hygiene requirements and quality standards, and to meet the United States, European Union and other relevant standards.


Copyright © 2008-2015 Jiangsu Uniwell Biotechnology Co., LTD All rights reserved.